Garda is one of the main touristic towns on the east coast of the Lake of Garda. It's only 13 km from Residence Lago di Garda and about 30 km from Verona. Typical places are the old town, Punta San Vigilio and the Sirene bay.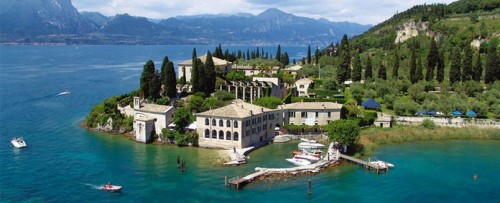 The old town of Garda are narrow streets where you can walk between the lake promenade, Villa Albertini (16th century), the Captain's Palace, a Venetian Palace of 14th century, Villa Carlotti and the 18th century church dedicated to the Assumption of the Virgin Mary.
The old Rock of Garda is 300 mt over the town and have a wonderful sight over the whole lake. It's also located the 15th century Carmelite monastery.
Punta San Vigilio is a town located between Garda and Torri del Benaco. Its name comes from Saint Vigilius (San Vigilio), the Bishop of Trento from 385 to 402 A.D. San Vigilio became famous in 1540 when Agostino Brenzoni built his villa and the park. Many famous people have stayed at the Villa Brenzoni, including Tsar Alexander, the King of Naples, Winston Churchill, Laurence Olivier, King Juan Carlos and the British royal family. The peninsula of San Vigilio, on which the villa formerly stood, was described by Riccardo Bacchelli as "the most radiant, airy place". The villa was built in the 16th century and the designer was Michele Sammicheli (1484-1559).
Getting there
Garda is 13 km from the Residence and can be reached by car via the Gardasana street or by bike via the lakeside bicycle path
http://maps.google.it/maps?saddr=Via+Pai+di+Sotto,+99,+Torri+del+Benaco+VR&daddr=Garda,+VR&hl=en&ll=45.614518,10.739822&spn=0.244951,0.676346&sll=45.668765,11.02478&sspn=0.489428,1.352692&geocode=FQiwuAId3qWjACkJsgehV_SBRzEwCZJ0X7y58A%3BFY1ztwIdoFqjACnxBnNgOPKBRzGnflySB3V2BQ&oq=Garda&mra=ls&t=m&z=11