WINDSURF: SURF CENTER
The Upper Lake Garda is the golden triangle for windsurf buffs. The gusty Peler, which blows in the morning, and the afternoon Ora winds ensure ideal conditions for thrilling surfing. You can skim the waves and fly on the board just like you do in Hawaii, Sardinia, and the French Riviera. Thousands of windsurfers from all over Europe come to the area.
 
Arco
Surf Center Marco Segnana, Tel. (+39) 0464 505963
Bardolino
Lido Holiday Surf, Tel. (+39) 045 7210092
Brenzone
Martina Loch Loc. Castelletto, Tel. (+39) 045 7420555
Hp Sports Loc. Castelletto, Tel. (+39) 045 7430707
Gargnano
Ok Surf Loc. Fontanella, Tel. (+39) 0365 790012
Limone sul Garda
Geri Surf Center, Tel. (+39) 0365 954040
Windsurfing Lino, Tel. (+39) 338 4097490
Malcesine
International Sailing Center Loc. Campagnola, Tel. (+39) 045 7400055
Stickl Sport Camps Loc. Val Di Sogno, Tel. (+39) 045 7401697
Wind Surf Bay Loc. Campagnola, Tel. (+39) 045 7400311
Wind Square Loc. Sottodossi, Tel. (+39) 045 7400413
Sunrise Loc. Molini, Tel. (+39) 045 7401104
Moniga del Garda
Centro Surf E Canoe, Tel. (+39) 0365 502364
Padenghe sul Garda
Sporting Club Basso Garda, Tel. (+39) 030 9907672
Riva del Garda
Bouwmeester Pro Center, Tel. (+39) 0464 551730
Nautic Club Riva, Tel. (+39) 0464 552453
Prof. W. School Tomasi, Tel. (+39) 0464 556077
Surf Center Marco Segnana, Tel. (+39) 0464 505963
Sirmione
Centro Surf Martini Sport, Tel. (+39) 030 916208
Centro Surf Sirmione, Tel. (+39) 338 6243650
Torbole
Circolo Surf Torbole, Tel. (+39) 0464 505385
Surf Center Lido Blu, Tel. (+39) 0464 505180
Surf Center Marco Segnana, Tel. (+39) 0464 505963
3 Surf (Club Mistral), Tel. (+39) 0464 506077
Vasco Renna Surf Center, Tel. (+39) 0464 505993
Windsurfing Conca D'oro, Tel. (+39) 0464 506251
Torri Del Benaco
Centro Surf Jean Pierre, Tel. (+39) 045 7225215
Tremosine-Campione
Tender Wind&Kitesurf , Tel. (+39) 0365 916900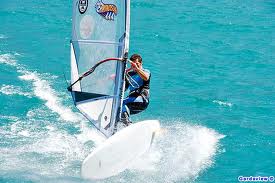 The Lombard shore
The crowd first gathers in Lombardy, in the heart of the Upper Garda Park of Brescia. Surfers arrive early. They park in front of the beautiful lemon grove, where the finest fruit of the wide lake is still grown. They slip into their drysuits, then hit the waves formed by the northernly Peler wind with gusts of between 20 and 30 knots. The waves are so tall you can even jump with the board, and it is almost like being at sea. Some surfers try looping. This is the only place where you can really fly over the waves. We?re offshore from Prà de la fam [Hunger Meadow], a place given this name by the fishermen who used to stop here for breakfast after hours of launching and retrieving their nets laden with fish. Milan is just 150 kilometers away. Highway exits are at Brescia and Desenzano. After reaching Riva, people arriving from Germany by way of the Brenner Pass must travel south for about 20 kilometers. The road to Salò, the Gardesana Road, was dubbed Meandro by D?Annunzio because it climbs steep cliffs that resemble the ones at Dover. Windsurf champions run most of the windsurf schools in the area, which is a guarantee of excellence. Other distinguished athletes design boards and sails. Important companies have opened Italian and European branch offices on the banks of Lake Garda, while other areas in the region have become authentic technological parks and research centers. A few kilometers from "Prà de la Fam", in the municipality of Tignale, you can take the long lighted tunnel to Campione, a town which is undergoing extensive renovation. The old cotton mill will become a resort for water sports enthusiasts. Limone, 7 kilometers away, is a famous tourist capital of Northern Italy. It has many windsurf schools and rental places along the beaches and at major hotels. If you keep on the state road, you will encounter the Capo Reamol lemon grove. The parking areas full of cars, campers and caravans are the bases for surfers who love the Ora winds. Surfers sail from one side of the lake to the other with gorgeous turns and sails large enough for athletes with stamina and muscles.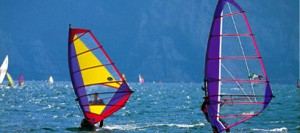 The Veneto shore
Taking the Gardesana Road east, about 5 kilometers south of Torbole is the Veneto shore of Lake Garda. At Malcesine, you?ll find many tourists and windsurf buffs. Windsurf schools can be found all along the beaches. Flags and banners indicate the direction, so even the most absent-minded traveler will not lose his way. Further south you?ll find the ideal conditions for the northerly Peler wind and the vigorous Ora wind, mentioned by Goethe in his diary on his travels in Italy. Dominating the horizon is the Scaliger Castle, a warning and point of reference for surfers propelled by the wind out on the lake. The Sogno Valley is another surfer?s paradise. The wind in the area is perfect for beginning surfers. Lake Garda apparently caters to neophytes, too!
Trentino
On the Gardesana road is the Pier Hotel, one of the most popular meeting points for windsurfers. The school is run by Miki Bouwmeester, a Dutch windsurf champion who discovered the winds on Lake Garda at the beginning of the seventies. It is one of the best equipped schools with boards, sails and a surf simulator. Audiovisual aids are also available: there is even an interesting VHS course that can be reviewed in the comfort of your home. Riva and Torbole, two towns in the Trentino region, have become the capitals of windsurfing and, more recently, of mountain biking, an "environmentally friendly" recreational activity. Surfer beaches are marked by large signs. You must be careful because some beaches are only reserved to swimming. The breeze of the Ora hits you headlong, but after sailing close hauled, you can ease the sail. The most interesting places are near the Hotel Du Lac beach in Riva, at the mouth of the Sarca River in Arco, and at the Pavese resort in Torbole. The ideal solution is at the Circolo Vela [Yacht Club] where you?ll find a large parking lot, school and the Conca d?Oro rental shop. You can surf here all year round. On weekends, more than 10,000 surfers come to the area, and nearly half a million people visit the area between April and October.
Lake Garda: Club and Sailing Schools F.i.v.
Lake Garda is proud of its long and consolidated tradition. In the past 50 years, its yacht clubs have been the hotbed for top Olympic skippers such as Fabio Albarelli, Roberto Benamati, Albino Fravezzi, Flavio Scala, the Celon brothers, Luca Devoti and Silvio Santoni, to name a few. Others, such as Olympic winners Jesper Bank from Denmark, Germans Joerg Schuman (a three-time gold medal winner in three Olympics), Alex Hagen, Vincent Hoesch and Markus Wieser, and Austrian Raudaschal, have chosen Lake Garda as their favorite training center. The winds vary from one zone to another: there are light breezes in the lower part of the lake and brisker winds north of Gargnano towards Malcesine and Torbole. Each area has its own Yacht Club or Guild with a school, recognized by the Federation, for youngsters and adults alike. Just as famous are the Garda races such as the popular Centomiglia and Intervela, which have existed for 50 years. International championships are organized at Lake Garda each year; the latest was the first Italian Open Championships for the 10 Olympic classes. Lake Garda has also been the site of the world championships for 5.50, F.D., Soling, Mini Tonner, Hobe Cat, Fun, Tempest and of the European championships for Star, Finn, Fun, Asso 99, Trias, Dyas, Dragoni, Soling Match-race, a trail in the international two-man challenge, and the Pedrini Cento Cup.
ARCO
Circolo Vela Arco, tel. (+39) 0464 505086
BARDOLINO
Centro Nautico Bardolino, tel. (+39) 045 7211109
BRENZONE
Circolo Nautico Brenzone, tel. (+39) 045 7430169
Compagnia delle Derive, tel. (+39) 045 7420762
Yacht Club Acquafresca, tel. (+39) 045 7420575
DESENZANO DEL GARDA
Club Nautico Diavoli Rossi, tel. (+39) 030 9141346
Fraglia Vela Desenzano, tel. (+39) 030 9143343
Lega Navale Italiana – Sez.Brescia, tel. (+39) 030 9980344
GARDA
Gruppo Vela L.N.I. Garda, tel. (+39) 045 7256377
GARGNANO
Circolo Vela Gargnano, tel. (+39) 0365 71433
LIMONE SUL GARDA
Circolo Vela Limone, tel. (+39) 0365 914045
MALCESINE
Fraglia Vela Malcesine, tel. (+39) 045 7400274
MANERBA DEL GARDA
Circolo Vela Torcolo, tel. (+39) 030 9907217
MONIGA DEL GARDA
Nauticlub Moniga, tel. (+39) 0365 503057
PADENGHE SUL GARDA
West Garda Yacht Club, tel. (+39) 030 9907295
West Garda Marina, tel. (+39) 030 9907164
PESCHIERA DEL GARDA
Fraglia Vela Peschiera, tel. (+39) 045 7550727
RIVA DEL GARDA
Circolo Velico Alto Garda, tel. (+39) 0464 521831
Fraglia Vela Riva, tel. (+39) 0464 552460
Sezione L.N.I. Riva, tel. (+39) 0464 556028
SALO'
Società Canottieri Garda, tel. (+39) 0365 43245
SAN FELICE DEL BENACO
Circolo Nautico Portese, tel. (+39) 0365 559893
SIRMIONE
Yachting Club Sirmione, tel. (+39) 030 9904078
TORBOLE
Circolo Vela Torbole, tel. (+39) 0464 506240
TORRI DEL BENACO
Yachting Club Torri, tel. (+39) 045 7225124
TOSCOLANO MADERNO
Circolo Vela Toscolano Maderno, tel. (+39) 0365 540888
TREMOSINE
Vela Club Campione, tel. (+39) 0365 916908
Navigation laws
 
Several laws were introduced by the regions of Lombardy, Veneto and Trento in January 1984. These laws were passed to ensure safety, to protect the environment and to promote tourism.
Navigation prohibited 500 m from the coast
Motorboat navigation is prohibited 500 meters within the coastal line (that distance is reduced to 200 meters in the Salo? Gulf, from Barbarano to Rocca di Manerba). Boats sailing from the shoreline to the permitted area 500 meters offshore must not exceed a maximum speed of 5 knots. Boats may not cross swimming areas. The maximum speed is 22 knots during the day and 10 knots at night. Boats may enter and leave ports at a maximum speed of 3 knots.
Scuba diving and waterskiing
Scuba divers must use buoys to mark their location. Water-skiing is subject to certain rules for launching corridors, equipment used on boats towing the skiers, and requisites for the crew.
Windsurf
Windsurf boards can be used one hour after dawn and until dusk, only in good visibility. Surfers must wear lifejackets.
Waterscooters
Waterscooter navigation is governed by local municipal laws. Therefore, please contact the local police station for more information.
Boat washing
All boat hulls must be washed before haulage.
MOTORBOATS ARE PROHIBITED IN THE LAKE GARDA AREA OF TRENTINO
The Upper Garda area is reserved to wind surfing. Motorboat navigation is prohibited in the area off shore from Riva del Garda, Arco and Torbole (about 10 square kilometers). Please contact the Port Authorities, local police stations or tourist offices for more information.
Fines
Fines ranging from Euro 16,00 to Euro 550,00 are applied depending on the seriousness of the offense. Special fines refer to surveillance services.
On-board equipment
According to the new national navigation laws, foreign boats must carry safety equipment required by their country of origin.
Required on-board equipment for boats navigating on Lake Garda
Italy has recently updated laws and rules dating back to the seventies. The most revolutionary law appeared in the ordinary supplement n. 141 of the Gazzetta Ufficiale of August 24, 1996. Here is what it says about on-board equipment:
"Boats must have lifesaving and safety equipment required for the distance from the coast where navigation actually takes place".
This might seem a genuine liberalization of the law. The risk that could cause irreparable damage, however, is a too liberal interpretation of the law by users and authorities who must enforce laws and ensure safety.
Rules based on the users? self-discipline in the matter, something which already occurs in civic-minded countries such as France, England and the Netherlands, will be introduced in the near future.
On the eve of the final "launching" of a United Europe, Italy must achieve real maturity in marine matters, something that unfortunately leaves us somewhat perplexed today.
In the meantime, we should comply with the safety rules that came into force on July 14, 1994.
Boats navigating on inland bodies of water, and therefore Lake Garda, must have on-board equipment that is required for boats sailing at a distance of 3 miles from the coast, which is the same equipment for boats sailing within 6 miles, with the exception of the collective lifeboat.
Mandatory equipment includes a life jacket for each person "actually" on board, not for the maximum number of passengers admissible on board. Otherwise, there can be a lifesaver (approved ring type) for every two persons on board. Besides this equipment, the boat must have a lifesaver ring (for two persons) bearing the words stating conformity with the Ministerial Decree of April 20, 1978, and with 30 centimeters of rope and an automatically activated lighted buoy. Since the law has not been passed yet, the buoy is still not obligatory.
Other equipment must include a hand pump or similar device, an anchor and rope at least 30 meters long, a pair of oars with boat-hook, two red flares plus two red star-shaped hand signals, or a flare gun with two charges with a validity of 4 years, two smoke buoys (not yet obligatory because no rule exists), regulation headlights in case of nighttime navigation, at least one flashlight, a white light with two batteries, a type 13B fire extinguisher for engines up to 25 hp, a type 21 B extinguisher for engines up to 200 hp, or a type 34B extinguisher for engines over 200 hp.
The ministerial rule states that small boats sailing within one mile from the coast, dinghies and windsurfs must have a life jacket for each person on board, and windsurfers must actually wear the life jacket. These regulations are also included in the navigation laws of the regions with jurisdiction over Lake Garda. National and regional laws impose rules that are taught during the first lesson in all sailing schools: "Wear a life jacket or have one within reach, even if you can swim".If you have any doubts, just contact shipyards, winter storage places, and sailing schools.
Foreign boats must comply with the laws and regulations issued by their country of origin.
Another law that must be respected is the Station Tax regulated by Law 498 of August 1994.
Boats (pleasure boats, boats and ships) must pay this tax based on the length of the boat.
The tax, however, can be paid for just the summer period.
STATO / REGIONI /PROVINCE/ COMUNI
STATO
Governo
REPUBBLICA ITALIANA
Quirinale
REGIONI
Regione Veneto
Regione Lombardia
Regione Trentino Alto Adige
PROVINCE
Provincia di Verona
Provincia di Brescia
Provincia di Trento
CAPOLUOGHI DI PROVINCIA
Verona
Brescia
Trento
COMUNI DEL LAGO DI GARDA
Comune di Torri del Benaco
Comune di Garda
Comune di Bardolino
Comune di Lazise
Comune di Peschiera del Garda
Comune di Sirmione
Comune di Desenzano
Comune di Padenghe
Comune di Moniga del Garda
Comune di Manerba del Garda
Comune di Comune di Salò
Comune di Gardone Riviera
Comune di ToscolanoMaderno
Comune di Bogliaco
Comune di Gargnano
Comune di Tignale
Comune di Tremosine
Comune di Limone
Comune di Brenzone
Comune di Malcesine
Comune di Torbole
Comune di Riva del Garda
ORGANI DI CONTROLLO
ESERCITO ITALIANO
MARINA MILITARE
AVIAZIONE MILITARE
GUARDIA COSTIERA
CARABINIERI
POLIZIA DI STATO
GUARDIA DI FINANZA
CORPO FORESTALE DELLO STATO
VIGILI DEL FUOCO
PROTEZIONE CIVILE
MINISTERO DELLA SALUTE
MINISTERO DEI TRASPORTI
FEDERAZIONI E LEGHE
Lega Bisse del Garda
http://www.legabissedelgarda.it/
F.I.C. – Federazione Italiana Canottaggio
http://www.canottaggio.org/
F.I.C.K. – Federazione Italiana Canoa e Kayak
http://www.federcanoa.it/
F.I.V. – Federazione Italiana Vela
http://www.federvela.it/
CENTRI NAUTICI
Comitato XIV Zona FIV
http://www.federvela.it/xiv-zona
Centro Nautico Bardolino
http://www.centronauticobardolino.it/
Circolo Nautico Brenzone
http://www.cnbvela.it/
Circolo Vela Arco
http://www.circolovelaarco.it/
Circolo Vela Gargnano S.C.R.L.
http://www.centomiglia.it/
Circolo Vela Torbole S.C.R.L.
http://www.circolovelatorbole.it/
Circolo Vela Toscolano Maderno
http://www.cvtmaderno.com/
Fraglia della Vela Malcesine
http://www.fragliavela.org/
Fraglia della Vela Riva
http://www.fragliavelariva.it/
Vela Club Campione del Garda
http://www.vccampione.org/
West Garda Yacht Club
http://www.westgardayachtclub.it/
Yacht Club Acquafresca
http://www.circoloacquafresca.it/
Yachting Club Torri
http://www.yctorri.it/
http://www.marina.difesa.it/
CLASSI VELICHE
Asitalia 470
http://www.470.it/
Asso 99 One Design
http://www.asso99.it/
Associazione di Classe Beneteau 25
http://www.platu25.org/
Associazione di Classe Blusail 24
http://www.blusail.com/
Associazione di Classe Mini 6,50 Italiana
http://www.velanet/mini650
Associazione di Classe Yngling
http://www.pinoyachts.com/
Associazione Italiana Classe 49er
http://www.49er.it/
Associazione Italiana Classe Finn
http://www.classefinn.it/
Associazione Italiana Classe First 8
http://www.first8.it/
Associazione Italiana Classe Fun
http://www.classefun.org/
Associazione Italiana Classe J 24
http://www.j24.it/
Associazione Italiana Classe Laser
http://www.assolaser.org/
Associazione Italiana Mumm 30
http://www.mumm30.it/
Associazione Italiana Vele d'Epoca
http://www.italnet.it/alve
Blu Sail 24 One Design
http://www.bs24od.com/
Classe Star XIV Distretto Iscyra
http://www.starclass.it/
International Soling Class
http://www.soling.com/
J22 Italia
http://www.j22.it/
Meteor Assometeor – Asd
http://www.assometeor.it/