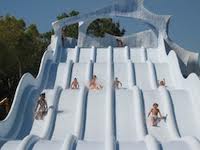 ITALY'S GREENEST WATER PARK
The Cavour water park, ideal for family fun, is set in a veritable natural oasis: freshness, merriment, relaxation, sports and fun just steps from Lake Garda.
The Cavour water park is located in the Valle del Mincio and occupies an area of 200,000 m².
It contains five large pools for both adults and children, a sea beach with an exotic island – unique in Europe – called "Paradise Island", a corner entirely dug out of rock with Tunisian sand beach and sea bed, a 3-run slide, a lagoon with water games, a golden beach (a Caribbean oasis for mothers with children), a fully equipped playground for children, trampolines, bumper boats, grass soccer fields, tennis courts, beach volley courts, picnic areas.
"Iceberg" is the new amazing attraction that plays ice of the Arctic, breathtaking slides and a magical setting you back in time hundreds of thousands of years ago.
The park also offers many other services, such as newsstand, bazaar, changing rooms and hot showers, large shaded parking, typical bar and restaurant, snack bar, fast food restaurant, pizzeria, 3 bar stands.
How to get there:
the park is located at Ariano, 2 km from Valeggio sul Mincio, exit at Peschiera from the A4 Milano-Venezia motorway, drive in the direction of Valeggio sul Mincio, 2 kilometres from Borghetto.