http://www.altomincio.com/intro.html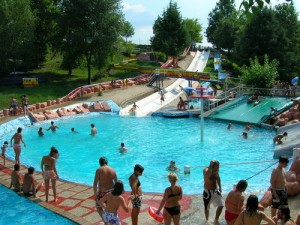 Water park for family fun
Lots of fun for children in the Altomincio Family Park water park… and an Olympic sized pool for parents
The Altomincio Family Park water park is something quite special: you can choose between a lagoon surrounded by greenery, playing on the slides, children's games and attractions or the Olympic sized pool (measuring 50mx25m) next to the Bar Terrazza to relax lying in the sun, or under an umbrella!
Every day the campsite's entertainment team organise lots of activities daily for adults and children like foam parties, tournaments and the Elite Kids activity program in the lagoon, and acqua gym in the pool. In the baby pool water games and soft dunes to slide on.
And if you want to take a break by the lagoon  Froggy's bar is always open!
The Altomincio Family Park water park is open every day. The opening times may vary in low season. The management reserve the right to close the park in case of bad weather.