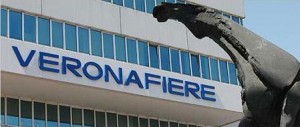 FAIRS AND CONVENTIONS
The Verona Trade Fair Centre, situated in the southern suburbs, has for years been the ideal venue for agricultural shows, veterinary conventions as well as exhibitions organized by the furniture and marble industries.
The Horse Fair (the most important fair dedicated to horses and riding enthusiasts) has been held here since 1858, and Veronafiere is also the venue for the word-renowned Vinitaly. Shows dedicated to the world of electronics, luxury and nautical goods, stamp-collecting, minerals, modern art, fishing as well as the job-market (Job&Orienta for young people) have also been held here over the years. The shows are also accompanied by a wide range of events organized by the city of Verona and its province.
Inside, a large number of conference halls with the latest equipment and a friendly and competent staff await to cater to your every need. Even Palazzo della Gran Guardia in Piazza Bra' (the heart of Verona) is well-known and elegant conference centre used by many. To cut a long story short, Verona's Fairs and Conference Centres, due to their strategic position and the beauty and wide range of activities surrounding them, continue to be resounding success.
dal 25/03/2012




al 28/03/2012

Vinitaly


Salone Internazionale del Vino e dei Distillati

dal 18/04/2012




al 21/04/2012

Metef-Foundeq – Expo numero 1 nel mondo dei metalli


Expo internazionale dell'alluminio e Expo internazionale delle tecnologie della fonderia

dal 18/04/2012




al 21/04/2012

Metalriciclo – Recomat – Fiera del riciclo industriale dei materiali


Metalriciclo – Salone Internazionale delle Tecnologie per il Recupero e il Riciclo dei Metalli ferrosi e non ferrosi. Recomat – Salone Internazionale delle Tecnologie per il Recupero e il Riciclo dei Materiali industriali, la Qualità dell'ambiente, l'efficienza energetica.

dal 19/04/2012




al 22/04/2012

Classical Music World


Fiera internazionale della Musica Classica: Unica e non Convenzionale

dal 09/05/2012




al 11/05/2012

Solarexpo


Mostra e convegno internazionale su energie rinnovabili e generazione distribuita

dal 09/05/2012




al 11/05/2012

Greenbuilding


Mostra e convegno internazionale su efficienza energetica e architettura sostenibile

dal 15/05/2012




al 17/05/2012

Automotive Dealer Day


Informazioni, Strategie e Strumenti per la Commercializzazione Automobilistica

dal 24/05/2012




al 27/05/2012

Eurocarne


Salone Internazionale delle Tecnologie per Lavorazione, Conservazione, Refrigerazione e Distribuzione delle Carni

dal 25/05/2012




al 27/05/2012

Verona Mineral Show Geo Business


Esposizione internazionale della mineralogia-paleontologia-gemmologia-malacologia-attrezzature-lavorati ed editoria.

dal 25/05/2012




al 27/05/2012

Veronafil


Manifestazione filatelica, numismatica, cartofila

dal 15/09/2012




al 17/09/2012

EICA


Esposizione internazionale del ciclo

dal 26/09/2012




al 29/09/2012

Marmomacc


Mostra Internazionale di pietre, design e tecnologie

dal 18/10/2012




al 22/10/2012

Art Verona


La fiera delle gallerie italiane di arte moderna e contemporanea
Events abroad 2012
dal 30/04/2012




al 03/05/2012

Qatar stone-tech


The international stone and stone tecnology show

dal 30/04/2012




al 03/05/2012

Vinitaly in the World – US


New York and Chicago

dal 25/06/2012




al 28/06/2012

SIAB / Fispal Food Service – San Paolo Brasile


International Techno-Bake Exhibition

dal 02/10/2012




al 03/10/2012

Vinitaly in the World – Russia


Mosca