http://www.jungleadventure.it/index.htm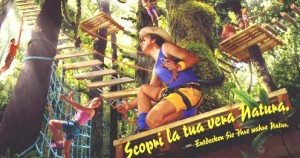 The adventure can begin!
Who does not know the exploits of Robin Hood in the woods? Who has not dreamed of floating in the air hanging from a vine like Tarzan in the jungle? Finally, those who nevermoved to the cinema watching the reckless enterprises in the forest of Harrison Ford as Indiana Jones?
The activity includes safety equipment, briefing with aircraft simulation games, groundsurveillance.
Recommended clothing and casual footwear. materials certified to CE standards. Internship opportunities for businesses, including training seminars, organizingconferences and meetings, possible accommodation with swimming pool, tennis, golf.