Art and Culture

Art and culture on Lake Garda – this involves numerous small music and theatre festivals just as much as the widely known opera in Verona. This includes prehistorical, antique and medieval monuments as well as modern, strange and futuristic pieces of art. The influences of many emperors as well as ordinary people, who for centuries have been attracted by the beauty of the Lake are making the region around Lake Garda one of the most varied cultural sceneries in Europe.
Wine museum
Visitors are welcome to look at antique wine growing implements, tools and equipment at the estate's wine museum, which is part of the estate and was opened during Bardolino's wine and grape festival in 1991. You can learn a lot about the history of wine-growing and the long-standing tradition of wine production. In the former wine cellar, plenty of historical tools, implements and equipment illustrate the different stages of wine production.
Of course visitors may try and purchase the Cantina Zeni wines at the museum.
Incentives
As a service for business groups Cantina Zeni offers interesting incentives, such as blindfolded wine tasting sessions which involves groups competing against each other. Participants are required to identify and evaluate wines, on the basis of information they have been given beforehand with their eyes open. This is both a new and very intense tasting experience, with lots of fun guaranteed. For further information, please phone: +39-045-7211529, Fax: +39-045-6212702
Museum opening hours:
From the middle of March to the end of October, Mondays to Fridays 9:00 am to 1:00 pm and 2:00 pm to 7:00 pm, Saturdays, Sundays and public holidays from 9:00 am to 1:00 pm and 2:00 pm to 6:00 pm.
Sights at the western lake

Il Vittoriale degli Italiani in Gardone Riviera
Mausoleum and tomb of the poet Gabriele d'Annunzio:, villa, museum, parc and open air theatre
La Rocca di Manerba
Castle ruin on 216 meters with panoramic views on lake GardaLa Isola del Garda
Small island of San Felice del Benaco with century old villa, marvelous gardens and natural reserve
La Valle delle Cartiere in Toscolano-Maderno
Once an important centre for paper manufacture, nowadays a fascinating excursion
La terrazza del brivido in Tremosine
Terrace, suspended 350 m above the lake, breathtaking views for all that have a good head for heights
The capital city of the province of Lombardy, Brescia, is located at a distance of about 30 kilometres from the south-western shore of Lake Garda and due to its numerous art treasures worth a visit
Arena di Verona
Sights at the northern lake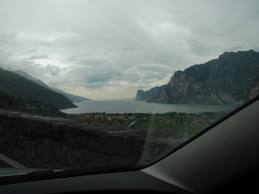 Le Cascata Varone in Riva del Garda
Waterfalls of Varone – beautiful and impressing nature playLa Casa degli Artisti in Tenno
House of artists with regular exhibitions in Canale del Monte, an idylic mountain village in lake TennoLe Marmite dei Giganti in Torbole sul Garda
"Pots of the Giants" – phenomenon of glacial erosion
Sculpture Park Drena 3000
Permanent international open air art gallery in the hills of Drena
Sights at the eastern lake

Punta San Vigilio
Peninsula between Garda and Torri d/B, restaurant, bar, beach with kids playground, accessible by boatLa Rocca di Garda
Ruin of a medieval castle on the top of a table mountain south of Garda, reachable by foot in about one hourLa Dogana Veneta in Lazise
Venetian customs office of the 14th century, nowadays used for cultural events and exhibitions
Santuario Madonna della Corona
Famous sancutary at Spiazzi on Monte Baldo, situated mid-rock face, at 700 metres, completely excavated in the living rock that falls perpendicular for 400 metres
Villa Mosconi in Nòvare di Arbizzano in Valpolicella
Impressive villa of the 18th century with beautiful paths for relaxing walks