Arena
The Arena – Verona's most famous monument, visited by tourists world-wide.
If you contemplate it in silence, it's not difficult to imagine it crammed with spectators as in Roman times: all you need do is shut your eyes or go to see one of the splendid opera performances held here and the Arena will come magically to life.
Situated in Piazza Bra', the Amphitheatre was built in the first half of the 1st century A.D., in the period which marked the end of Augustus' reign and the beginning of that of Claudius. It is the third largest amphitheatre in Italy, after the Colosseum and the amphitheatre of Capua.
Its elliptical shape produces perfect acoustics from every physical stand point in the arena and enhances its capacity to accommodate a great number of people.
Performances used to take place in the centre of the amphitheatre, the "harena" (hence the name) or the area covered in sand where gladiatorial combats were held, the sand being used to absorb the blood of gladiators and animals.
In its "platea" and "cavea" the amphitheatre could contain 30.000 people. The amphitheatre consists of three concentric rings: only a brief section of the external ring remains – the so-called "Ala".
The façade was built in limestone (white and pink in colour) from the Valpolicella quarries. Its original colour has come to life thanks to recent restoration. The second internal ring remains intact with its double tier of seventy-two arches.
Events in the Arena
Shows and combats were held in the arena from dawn to dusk, and could even last for days when important victories were commemorated.
Download PDF (10,3 KB)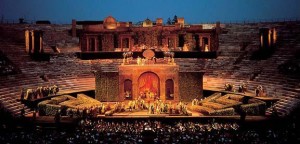 PROGRAM ARENA OF VERONA 2012
Friday 22-giu DON GIOVANNI
Saturday 23-giu AIDA
Thursday 28-giu AIDA
Friday 29-giu DON GIOVANNI
Saturday 30-giu CARMEN
Thursday 05-lug CARMEN
Friday 06-lug DON GIOVANNI
Saturday 07-lug ROMEO ET JULIETTE
Sunday 08-lug AIDA
Tuesday 10-lug CARMEN
Wednesday 11-lug AIDA
Thursday 12-lug DON GIOVANNI
venerdì 13-lug CARMEN
sabato 14-lug ROMEO ET JULIETTE
domenica 15-lug AIDA
Tuesday 17-lug CARMEN
Wednesday 18-lug DON GIOVANNI
Thursday 19-lug AIDA
Friday 20-lug CARMEN
Saturday 21-lug ROMEO ET JULIETTE
Sunday 22-lug AIDA
Tuesday 24-lug AIDA
Wednesday 25-lug DON GIOVANNI
Thursday 26-lug ROMEO ET JULIETTE
Friday 27-lug CARMEN
Saturday 28-lug AIDA
Thursday 02-agoAIDA
Friday 03-ago CARMEN §
Saturday 04-ago TURANDOT
Sunday 05-ago AIDA
Tuesday 07-ago CARMEN
Wednesday 08-ago TURANDOT
Thursday 09-ago AIDA
Friday 10-ago CARMEN
Saturday 11-ago TURANDOT
Sunday 12-ago AIDA
Friday 17-ago TURANDOT
Saturday 18-ago TOSCA
Sunday 19-ago AIDA
Wednesday22-ago TOSCA
Thursday 23-ago TURANDOT
Friday 24-ago CARMEN
Saturday 25-ago TOSCA
Sunday 26-ago AIDA
Tuesday 28-ago CARMEN
Wednesday 29-ago TOSCA
Thursday 30-ago TURANDOT
Friday 31-ago CARMEN
Saturday 01-set TOSCA
Sunday 02-set AIDA
SEEDLING OF THE ARENA OF VERONA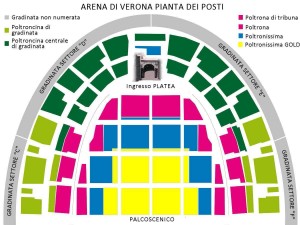 You will find below the cover prices
Poltronissime "GOLD" :
Venerdì/sabato Altre: € 198,00
Altre rappresentazioni: € 183,00
Romeo et Juliette: € 139,00
Poltronissime: 
Venerdì/sabato Altre:  € 168,00
Altre rappresentazioni: € 153,00
Romeo et Juliette: € 119,00
Poltrone: 
Venerdì/sabato Altre: € 127,00
Altre rappresentazioni: € 116,00
Romeo et Juliette: € 89,00
Poltroncine centrali di gradinata:
Venerdì/sabato Altre: € 104,00
Altre rappresentazioni: € 94,00
Romeo et Juliette: € 72,00
Poltroncine centrali di gradinata ridotte:
Altre rappresentazioni: € 79,00
Romeo et Juliette: € 59,00
Poltroncine di gradinata: 
Venerdì/sabato Altre: € 84,00
Altre rappresentazioni: € 73,00
Romeo et Juliette: € 59,00
Poltroncine di gradinata ridotte:
Altre rappresentazioni: € 59,00
Romeo et Juliette: € 49,00
Gradinata D/E:
Venerdì/sabato Altre: € 27,50
Altre rappresentazioni: € 25,50
Romeo et Juliette: € 19,00
Gradinata D/E ridotta:
Altre rappresentazioni: € 21,00
Romeo et Juliette: € 16,00
Gradinata C/F:
Venerdì/sabato Altre: € 23,00
Altre rappresentazioni: € 21,00
Romeo et Juliette: € 17,00
Gradinata C/F ridotta:
Altre rappresentazioni: € 18,00
Romeo et Juliette: € 15,00
90 ° Lyric Festival 22 june – 2 september 2012

DON GIOVANNI | Wolfgang Amadeus Mozart
22 – 29 GIUGNO · Juni · June – Ore 21.15
6 – 12 – 18 – 25 LUGLIO · Juli · July – Ore 21.15
AIDA | Giuseppe Verdi
23 – 28 GIUGNO · Juni · June
8 – 11 – 15 – 19 – 22 – 24 – 28 LUGLIO · Juli · July
2 – 5 – 9 – 12 – 19 – 26 AGOSTO · August – Ore 21.00
2 SETTEMBRE · September – Ore 21.00
ROMÉO ET JULIETTE | Charles Gounod
7 – 14 – 21 – 26 LUGLIO · Juli · July
CARMEN | Georges Bizet
30 GIUGNO · Juni · June
5 – 10 – 13 – 17 – 20 – 27 LUGLIO · Juli · July
3 – 7 – 10 – 24 – 28 – 31 AGOSTO · August
TURANDOT | Giacomo Puccini
4 – 8 – 11 – 17 – 23 – 30 AGOSTO · August
TOSCA | Giacomo Puccini
18 – 22 – 25 – 29 AGOSTO · August
1 SETTEMBRE · September
TRAVEL BY BUS
Sett.                      Dom.                                             
15.30                     15.00      LIMONE
15.50                     15.20      RIVA
16.10                     15.40      TORBOLE
16.30                     16.00     MALCESINE
16.45                     16.15      BRENZONE
16.55                    16.25       TORRI
17.10                    16.40      GARDA
17.25                    16.55      BARDOLINO
17.30                    17.00     LAZISE
17.50                    17.20     PESCHIERA
 D / E *                         C / F *                Transfer
€ 63,00                         € 59,00                       €38,00
€ 60,00                         € 56,00                       € 35,00
€ 56,00                         € 52,00                       € 31,00