EVENTS AD HOC
Arranges for you every type of event, the Location is placed in one of the most picturesque Lake Garda: Torri del Benaco, 6000 metres in the park, the lake, you can enjoy a pool party with views
You can rent Location, organize everything turnkey, or make available our kitchen from the restaurant, maybe you do Chef with your friends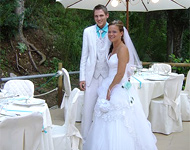 For information for your Marriage, baptism, Communion, Farewell to celibacy or nubilato, Parties Degree or Birthday, send a e-mail for a quote at the address: Info@eventiadhoc.it
An unforgettable place where celebrate the achievement of your dream. Want and if they can arrange for you an evening of live music, famous deejay or who will dance till a late night or a duet of voices, piano and violin and reading your favorite poems.
The exhibition structure organizes events of all kinds, by providing a location propilena guests unforgettable.
Festivals, Banquet and Reception of all kinds have a unique background!